Winter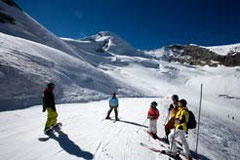 Ski & Snowboard
In Saas-Almagell you can take a chairlift directly in the ski region Furggstalden/Heidbodme on 2400 meter above sea level.
From Saas Almagell you can easily hop on the Skibus to visit the other skiregions of Saas-Fee and Saas-Grund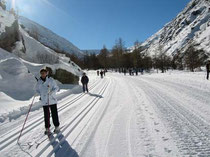 Cross-country skiing
The Saas Valley offers totally 32 km of cross-country trails through snow-covered larch forests. You can take a direct trail from Saas-Almagell to Saas-Balen along the frozen river Vispa.
A real paradise for enthusiastic cross-country-skier!
Overview cross-country ski run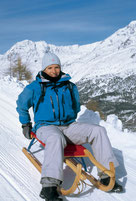 Sledging
A beautiful 3 km-long sledging trail from the Furggstalden ski area through a fary-tale forest to Saas-Almagell awaits you. There ist a possibility to do night-sledging every Tuesday from 19.00 to 21.45. Fun guaranteed!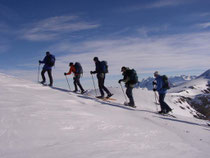 Snowshoe walking
Discover the wonderful mountain region during a snowshoe hike. For example every Wednesdays you can go on a guided tour starting in Saas Almagell.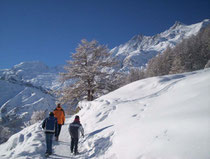 Winterhiking
As an alternative for skiing or ski-cross country, the region Saas Valley offers up to 60km well groomed hiking paths through the moony landscape. There is also the possibility to go on themed and educational trails to learn something about the region.
Icepavillion
The biggest ice pavilion of the world in Saas-Fee at the Mittelallalin at 3500 meter above sea-level is definitely worth visiting. You can participate on a guided tour for free!