Summer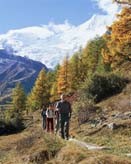 Easy hikes
If you like to take it easy on your hike then we have just prepared the right selection of easy but very nice hikes for you.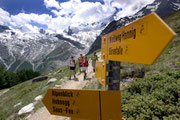 High altitude hikes
High altitude hiking in the Saas Valley: Surrounded by 4000 meters peaks you pass centuries-old larches high above the valley floor - a stunning feeling and view.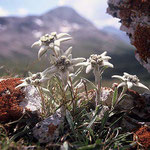 Themed and educational trails
Learn as you hike…! On the themed and educational trails in the Saas Valley you can enjoy on your hike the wonderful Nature and enlarge your knowledge about the region.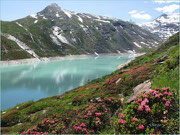 Mattmark Dam
At the far end of the Saas Valley you find the biggest earth dam of Europe, the Mattmark Dam!
The dam is being used for producing electricity and is one of the most popular places of excursion in the region of Saas-Almagell.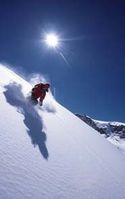 Summer skiing
If you like skiing or snowboarding during then you have to visit our summer ski area at 3600 meter above sea-level. Just beautiful!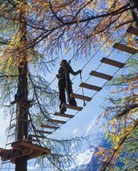 Adventure forest
Are you free from giddiness, do you like it adventurous? Then you will enjoy the experience sliding down Tyrolean lines and move from tree to tree on suspension bridges and other fun activities.
It`s good fun!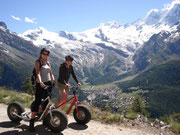 Scooter – Fun!
Discovering the region while riding a scooter is fun and suitable for both old and young!