Family
Winter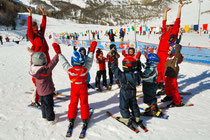 The children ski school
Who wants to become a great skier? Our ski schools offer ski lessons for kids from 4 years old.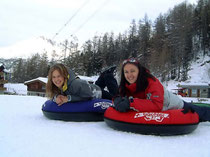 Snowtubing
Fun on giant rubber tyres or airboards for young and old! Beware: snow-tubing is addictive!
You can go snow-tubing every day from 9 a.m. - 4 p.m. in the Furggstalden ski area above Saas-Almagell.
Furggstalden Childrens Park
In Furggstalden above Saas-Almagell, there's a new snow paradise with a variety of facilities available for keen young skiers. The park is located in a sunny area, children can enjoy skiing surrounded by dragons, lions and other friends of the animal world!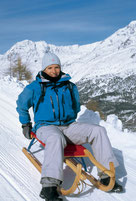 Sledging
A beautiful 3 km-long sledging trail from the Furggstalden ski area through a fary-tale forest to Saas-Almagell awaits you. There is a possibility every Tuesday from 19.00 to 21.45 to do night-time sledging. Fun guaranteed!
Sommer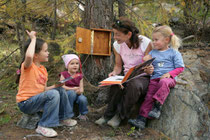 The fairy-tale Trail
The big family treat for summer is surely the fairy-tale trail - a trail of fairy tales and legends! The trail which extends between Melchboden and Bärenfalle was opened in June 2006 and it has been extended by 3 new fairy-tales in summer 2007.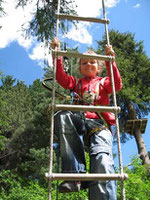 Adventure Forest
An adventure forest has been opened in July 2004 in Saas-Fee. Swing on a liana from tree to tree or walk unsteadily across hanging bridges: a forest full of adventure for the whole family with various routes and degrees of difficulty.
Try your hand at climbing
Playing with gravity, feeling the warm rock, overcoming your fear to take on challenging feats in which you are secured at all times - experience all this when you try your hand at climbing.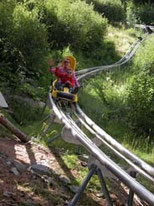 Feeblitz Tobbogan /bobsleigh run
The experience of a lifetime in the Pearl of the Alps. The toboggan run is open in summer and winter, and offers lots of fun for young and old alike.